This lesson should help Arabic Language students to add vocabularies and sentence related to the market , Varieties of vegetables and fruits in Arabic .
  علي طالب أمريكي قرّر  قضاء عطلة الصيف في الإسكندرية  في مخيم تعلم اللغة العربية
Ali is an American student who decided to spend his summer vacation in Alexandria in an Arabic language camp
ذهب علي إلى السوق في مصر لأول مرة لشراء الخضر 
Ali went to the market in Egypt for the first time to buy vegetables
سمع البائع ينادي على الموز والتفاح والعنب والمانجو 
He heard the seller calling for bananas, apples, grapes and mangoes
وعلى الخضر كالبطاطس والطماطم والخيار والبصل .
And on vegetables such as potatoes, tomatoes, cucumbers and onions.
علي رجل نباتي فهو لا يحب أن يأكل اللحوم ولا الدجاج،  ولا الأسماك  ولا البيض ولا يشرب الحليب 
Ali is a vegetarian, he does not like to eat meat, chicken, fish, eggs, and does not drink milk
أحب علي بعض الأطعمة المصرية كالفول والكشري .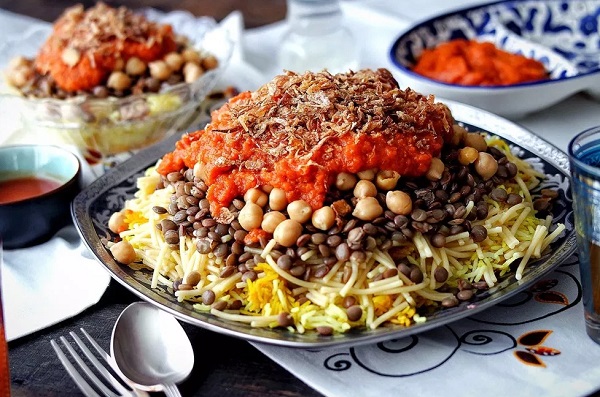 Ali liked some Egyptian foods, such as beans and koshary.
علي كان يأكل العنب كل يوم فهو رخيص الثمن ولذيذ أيضاً
Ali used to eat grapes every day, it's cheap and delicious too
تعلم على الحديث باللغة العربية في مصر وتعلم كيف يشتري الخضر والفاكهة من السوق وكيف يركب الحافلة وكيف يدفع التذكرة وكيف يعد النقود
Ali Learn to speak Arabic in Egypt, learn how to buy vegetables and fruits at the market, how to ride a bus, how to pay for tickets, and how to prepare money
علي يخطط الآن لعطلته الثانية في مصر
Ali is now planning his second vacation in Egypt
| | | |
| --- | --- | --- |
| Translation | الكلمة  | Pronunciation |
| the seller | البائع | albayie |
| the fruit | الفاكهة | alfakiha |
| vegetables | الخضر | khoudar |
| the banana | الموز | almawz |
| apple | التفاح | tufaah |
| grapes | العنب | aleanab |
| onions | البصل | basal |
| potato | البطاطس | albatatis |
| foods | أطعمة | aiteimh |
| Bean | فول | foul |
| Pay | يدفع | yadfaa |
| the ticket | التذكرة | altadhkira |
| Prepare | يعد | yaouddu |
| the talk | الحديث | alhadith |
| Plan | يخطط | yukhatat |
Immersion Arabic language camp
https://www.earabiclearning.com/blog/home/learn-arabic-in-egypt/